Fri, 04/29/2016 - 10:40am
We're getting ready for Somerville Reads 2016 - our next One City, One Book program, which will take place in the early Fall - and we need your input! Which of these books would you most like to read and discuss as a community? You can read about each book below (the reviews have been edited for length) then vote for your pick at the bottom of this post.
Assassination Vacation by Sarah Vowel What do you get when a woman who's obsessed with death and U.S. history goes on vacation? This wacky, weirdly enthralling exploration of the first three presidential assassinations. Vowell (The Partly Cloudy Patriot), a contributor to NPR's This American Life and the voice of teenage superhero Violet Parr in The Incredibles, takes readers on a pilgrimage of sorts to the sites and monuments that pay homage to Lincoln, Garfield and McKinley, visiting everything from grave sites and simple plaques (like the one in Buffalo that marks the place where McKinley was shot) to places like the National Museum of Health and Medicine, where fragments of Lincoln's skull are on display. An expert tour guide, Vowell brings into sharp focus not only the figures involved in the assassinations, but the social and political circumstances that led to each-and she does so in the witty, sometimes irreverent manner that her fans have come to expect. (Publisher's Weekly, starred review)
The Boys in the Boat: Nine Americans and Their Epic Quest for Gold at the 1936 Berlin Olympics by Daniel James Brown If Jesse Owens is rightfully the most famous American athlete of the 1936 Berlin Olympics, repudiating Adolf Hitler's notion of white supremacy by winning gold in four events, the gold-medal-winning effort by the eight-man rowing team from the University of Washington remains a remarkable story. It encompasses the convergence of transcendent British boatmaker George Pocock; the quiet yet deadly effective UW men's varsity coach, Al Ulbrickson; and an unlikely gaggle of young rowers who would shine as freshmen, then grow up together, a rough-and-tumble bunch, writes Brown, not very worldly, but earnest and used to hard work. (Booklist, starred review)
Can't We Talk About Something More Pleasant?: a Memoir by Roz Chast New Yorker cartoonist Chast (Theories of Everything) had vaguely thought that "the end" came in three stages: feeling unwell, growing weaker over a month or so in bed, and dying one night. But when her parents passed 90, she learned that "the middle [stage] was a lot more painful, humiliating, long-lasting, complicated, and hideously expensive" than she imagined. Chast's scratchy art turns out perfectly suited to capturing the surreal realities of the death process. In quirky color cartoons, handwritten text, photos, and her mother's poems, she documents the unpleasant yet sometimes hilarious cycle of human doom. (Library Journal)
I'll Give You the Sun by Jandy Nelson A resplendent novel from the author of The Sky Is Everywhere. Fraternal twins and burgeoning artists Jude and Noah are inseparable until puberty hits and they find themselves competing for boys, a spot at an exclusive art school, and their parents' affections. Told in alternating perspectives and time lines, with Noah's chapters taking place when they are 13 and Jude's when they are 16, this novel explores how it's the people closest to us who have the power to both rend us utterly and knit us together. (School Library Journal)
Life After Life by Kate Atkinson In a radical departure from her Jackson Brodie mystery series, Atkinson delivers a wildly inventive novel about Ursula Todd, born in 1910 and doomed to die and be reborn over and over again. She drowns, falls off a roof, and is beaten to death by an abusive husband but is always reborn back into the same loving family, sometimes with the knowledge that allows her to escape past poor decisions, sometimes not. Alternately mournful and celebratory, deeply empathic and scathingly funny, Atkinson is working at the very top of her game. An audacious, thought-provoking novel from one of our most talented writers. (Booklist, starred review)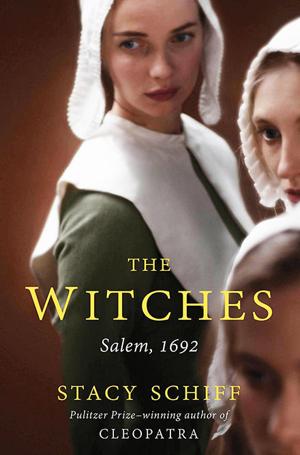 The Witches: Salem, 1692 by Stacy Schiff In 1692, the Massachusetts Bay Colony executed 14 women, 5 men, and 2 dogs for witchcraft. The ensuing terror cut a wide swath through the colony, affecting residents of all ages and educational backgrounds. Pulitzer Prize-winning historian Schiff (Véra; Cleopatra) chronicles the surrounding events, painting a vivid portrait of a homogeneous, close-knit network of communities rapidly devolving into irrational paranoia. Proving, yet again, that truth is stranger than fiction, she mines existing records, extrapolates all the major characters, and pieces together the unfolding story in suitably dramatic fashion as neighbors, friends, and family members turn on one another. (Booklist, starred review). Click here to vote for your choice! Somerville Reads is a project that promotes literacy and community engagement by encouraging people all over the City to read and discuss the same book.